A New Look for the most beautiful Dar Es Salaam Beach Accommodation and other places to go…
Karibu! Welcome to Pachikonjo Beach Resorts new look. We have recently invested a lot of time making sure that we represent exactly how we feel about our beach resort. For years we have been on the map of Dar Es Salaam Beach Accommodation in Tanzania and have hosted many, many happy guests who have enjoyed and returned to us year after year. It's not only the most relaxing Dar Es Salaam beach accommodation, but also the supremely beautiful views and surrounding areas draws everyone to us; even after all these years, we are still mesmerized by the charming landscape that we call Pachikonjo. Stepping away just a second, if you do find yourself in Dar Es Salaam as a traveler there are some pretty amazing places to head before popping across to see us!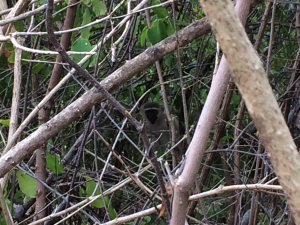 There are many reasons to come to Dar Es Salaam!
Tanzania, is a hub for tourism- mainly backpackers – globe trotting travelers from all corners of the earth who have come to Tanzania to see the majestic Safaris, Kilimanjaro and the Crystal Blue beaches of Zanzibar. Now, I am not going to tell anybody that those places are not amazing- because quite frankly, they are- but there is so much more that Tanzania has to offer. Although, its not known for its beaches or beach accommodation, there are parts of Dar Es Salaam that are just as good as it gets, if you know what you are looking for. For instance Bongoyo island just off a little bit out to see from Dar Es Salaam and its beaches are mzuri sana indeed! The island Bongoyo, if you are unfamiliar with it, is very popular with locals on the weekends and no wonder; it is a taste of what Zanzibar has to offer at a fraction of the cost and extremely close to the city. You can catch a cheep (if you're local) or fairly cheep (if a tourist) boat ride from one of the bigger hotels on the north of the city (White Sands/waterworld next door) . When you are on the island you can rent a shaded table to sit your drinks while you swim in the shallows. For food, there is an amazing locally owned fish restaurant situated on the island and although, it is only open on the weekends, the food I ate was the best seafood I've had in Tanzania. It would generally be a good idea to order about an hour before you want to eat as it gets unbelievably busy. Fantastic non the less.  There isn't any accommodation on the beach island but if you were looking for something even better, have a look at our rooms!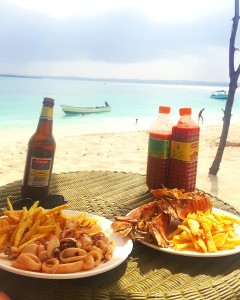 Dar Es Salaam – The city itself.
Dar Es Salaam is a fantastically diverse, crazy and exciting place to be. Whether you are passing through or staying for a couple of days, its always good to know what there is to do. Dar Es Salaam can offer a bewildering variety of different restaurants, chill spots and/or locations of interest. No matter who you speak to, somebody will have another one to share. There are places to suit all tastes and interests. One of the other bloggers writing on the website may disagree with me but here are a few of my personal places to go in the city:
The markets in Dar Es Salaam are everywhere and honestly, it sometimes seems like they all sell very similar things. There is one market however, just off the motorway towards the large shopping mall just out of town. The vendors there have some fantastic shops there and its mostly hand made. Just behind the stalls there is an army of people carving and sewing the items that you can buy.
One more the more reputable hotels in Dar Es Salaam is White Sands- it is slightly north of the town and is a popular chill spot with the more international visitors. If you are staying at accommodation in Dar Es Salaam already its a little pricey to visit depending what day you go but it is worth it. The sun beds are nice, the pool is large and clean, they play chilled out music and have good food on site. One thing I must say is that the beach could be cleaner – that side of the city's water isn't the best- stick to swimming in the sea on the islands. Beach accommodation is lacking a little bit in Dar Es Salaam but the south side of the city is perfect for a beach getaway.
3.A personal favorite of mine is a very small place called Dolphin on the far end of Mikocheni (its hard to find if you don't know the area). It's simple and very satisfying. Saying that- if you're not local to Dar Es Salaam I would advise a bistro called Black Tomato in the expat area of Oyster Bay. There are two- the one I am talking about is in a shopping center just up from Coco beach. It has fantastic food, the service is brilliant and the location is perfect. It has a very European feel to it sitting in big comfy chairs under a canopy of leaves. Finally, for the one off treat while in Dar Es Salaam i would defiantly go to the the Cape Town Fish Market. It is a branch of the very same South African chain with a Tanzanian twist. It may be pricey but the views, location, food and atmosphere are truly amazing. There is often a live band playing there too which, I don't know about you, is right up my street but nobody would dance with me!
4.Last but not least-  if you are looking for a taste of the night life there are two places I would suggest. The two venues are very close to each other so there is no reason why you cant go to both in one night. Firstly, there is George and the Dragon- catering to the expat custom its has a little bit more of a pub feel but there is an outside area and places to get up and dance. If you're looking for something which is a little bit more local head to Samaki Samaki; a particularly nice restaurant by day and a full blown club by night. It is atmospheric and energetic which is a winner for any night out.
Out of Dar E Salaam beach accommodation.
While we all love the city it is good to escape sometimes (here is where Pachikonjo fits the bill). The south side of the city, accessible by the ferry or Daladala is currently the most saught after part of the city. As we speak there are plans in motion to exploit the more immediate area surrounding Dar Es Salaam by building hotels and other resorts- the main reason for this- the amazing waters, scenery and sense of peace. We knew it wouldn't be long before somebody caught on to our secret. One thing that Dar Es Salaam does lack is good beach accommodation
A little bit further on you will find us. So if you are looking for a break from the city, or looking for beach accommodation on the south side of Dar Es Salaam make sure you get in touch!