There is Love out there for Pachikonjo Beach Resort – Dar Es Salaam Beach Accommodation
When I started working with Pachikonjo Beach Resort, I knew I loved it, but I didn't realize how many other people did too. Pachikonjo, had already built up a following on social media and in a previous life, boasted it's own website – this was way back in the days of 2009; almost 7 years ago now. Although, it did have a solid following then, it is a known fact, in that amount of time, people come and go, move on and forget about things they once knew or liked. The website and social media pages had been dormant for so long, I couldn't rely on the previous success; who knows what pulled the likes in – I soon found out.
Marketing is a tricky business – Dar Es Salaam beach accommodation may be the most satisfying and enjoyable product to write about and take pictures of, but it can be hard to get people to picture the place as you see it. I truly believe in writing about things that I know and love – I look for projects that I know I will enjoy above anything else. For me I have to make sure that it is a good quality product, so that the marketing values match those of the business. It is an ethos we have at SEO Fife (based in Scotland) and wish to run our business by.  Our strategy had already taken shape from my stay at Pachikonjo and I had more than enough pictures to use for it – we wanted to create a buzz around Tanzania and Dar Es Salaam while promoting the genuinely fantastic experiences that so many miss out on; a stay at Dar Es Salaam beach accommodation… including Pachikonjo Beach Resort.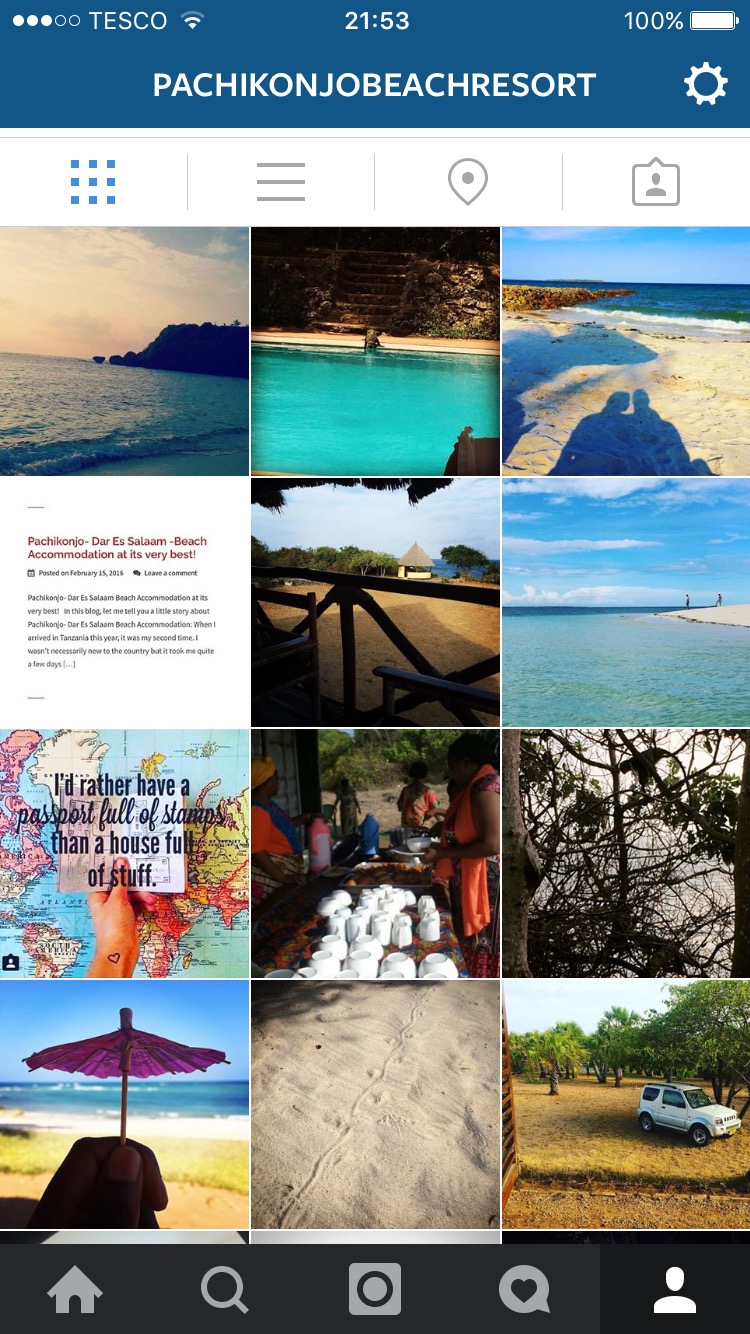 So my project began and building up the exposure to this fanatic place was our first step after creating the website. We got on social media, shared blog posts and gave people the opportunity to have a look at what Pachikonjo can offer. A couple of days ago, I received an email from a friend of mine saying that someone had recognized Pachikonjo on a social media site. I was immediately stuck by it- out of nowhere, somewhere completely unrelated to the website, somebody  had taken the time to express their love of Pachikonjo Beach Resort.
The comments came from a blogger called Biche, local to Dar Es Salaam-  She is Tanzanian and Ugandan and is somewhat of an authority on Living and Lifestyle in East Africa; it was such a compliment to Pachikonjo for the endorsement from the blog.
'I love this place. I spent one of my most memorable nights on the Kigamboni side of Dar's beach there, sleeping outside on the upper balcony on a full moon night with the amazing breeze of the ocean blowing away. And of course, the company of a special someone. 😉 Pure magic!' – Biche, Chick About Town 
Her website came to my attention and I had a root around to see if the content was quality, educational and exciting. Biche and Chick About Town can be found on Twitter, Facebook, Youtube plus many other forums. Have a look at Chick About Town's website first where you can find all of the social links: www.chickabouttown.com – Life and Lifestyle in East Africa. It covers anything from Kenya, Uganda and Tanzania – from the people, culture, 'restaurants, where to shop services and great events'; my personal favorite is a video of a man playing what looks like a home made lute on her youtube profile. There are so many times that somebody has wandered over with a drum or improvised instrument in Tanzania and played to me while at a restaurant or a beach. It took me right back the instant I saw it!
'I am glad to see that the resort now has a website, when I went there the website wasn't active and I wondered why they didn't let more people know about it. I really, really liked it.' – Biche, Chick About Town
This really spoke to me – From the time that Pachikonjo didn't have a website, people still remember and love the resort despite the fact it has been off the map for quite a while in terms of the internet. It got me thinking, when I was there, there was a constant stream of people coming in and out of the campus and meeting with the staff there; Pachikonjo is really does have a air of love and respect in the local area. In light of this, I decided to cast a net out for others who recognized the resort.
Christa recognized Pachikonjo as the place she spent many, many family reunions and holidays out of the city. She grew up in Dar Es Salaam and has spent most of her life living in East Africa; she is no stranger to Dar Es Salaam beach accommodation.
"I've always lived in a coastal city therefore, I've been to many beach resorts and islands but I have to say since I first went to Pachikonjo when I was just 8 years old, I knew that it would be my favorite beach. I still feel the same ten years later" Christa Ngonyani – heyheychrista
Christa is now a student and an avid fashion blogger – she started her regular blog posts in Tanzania and has no moved to France to study at University and realize her dreams as a fashion entrepreneur. It is a true pleasure to know that so many childhood memories and intimate family catch ups and parties were spent at Pachikonjo. She really does have an eye for fashion and style – she infuses current, popular European fashion trends with the vibrancy and authenticity of Tanzanian culture – I really can see her being a key player in style, and fashion, not only in Tanzania but in East Africa and Europe.
Have a look at some of her posts here: heyheychrista.wordpress.com….. and learn more about her on her Google Plus account: https://plus.google.com. She is also on Instagram!
"What I appreciate the most is the privacy since its not crowded with people so you have the freedom to explore and enjoy the beach as much as you'd like and experience you're true self in its peaceful silence, without forgetting the beach house from which you can enjoy the ocean's view and sunrise. It's not just any beach resort to me but where I can fully experience the essence of the East African coast."- Christa Ngonyani – heyheychrista
It's nice to see that so many other people love every inch of Pachikonjo like I do – it's even more interesting and fulfilling to know that they love exactly the same parts of it as I do. Christa, no stranger to Dar Es Salaam beach accommodation, has perfectly summed up what Pachikonjo is all about and why it is different from anything else in Dar Es Salaam if not Tanzania.
If you recognize Pachikonjo Beach Reosrt -Dar Es Salaam beach accommodation and love it too, please do not hesitate to supply your kind words. If not, share so that others can experience the wonderful, wonderful beach accommodation that we call home!